Protect Your Residence with Disinfection Services in Greater Asheville, NC
Paul Davis is ready to help you protect your home in the Greater Asheville, NC, region from pathogens. Even during this nationwide pandemic, we have not lost our focus on what we do: providing quality care for you in your time of need. As a professional property restoration establishment, we understand what's involved to eradicate pathogens.
Keep Your Residence Safe
Here are a few of the ways we maintain your safety in the Greater Asheville, NC, region:
Utilizing disinfectants and cleaning: At Paul Davis, disinfection is part of our job and we have the proper tools and equipment to take care of viruses, bacteria, microbial growth and other pathogens.
Implementing the proper precautions: Before we enter your residence, we will let you know that we're healthy and verify that you are too so that no one is put at risk. Furthermore, we will wear shoe covers so that outside contaminants won't be tracked into your home and working with face masks.
Provide information: We will provide customers with information about maintaining their health and safety. We invite you to ask questions about pathogens in the home and we will educate you according to the most recent company updates and procedures.
We Stay Safe for You
At Paul Davis, we make sure to take all the necessary safety measures in maintaining good hygiene. We adhere to the guidance set by the CDC and wash our hands consistently for 20 seconds with soap, use hand sanitizer, keep a recommended distance of six feet from people and sanitize surfaces that are touched on a consistent basis.
Our goal is to offer safety to businesses within Greater Asheville, NC, and this is even more important with COVID-19. This is how Paul Davis can help out your business:
Our dependable technicians will sanitize your building by applying disinfectants thoroughly.
We are EPA and FDA approved against most common viruses and bacteria.
We meet stringent standards.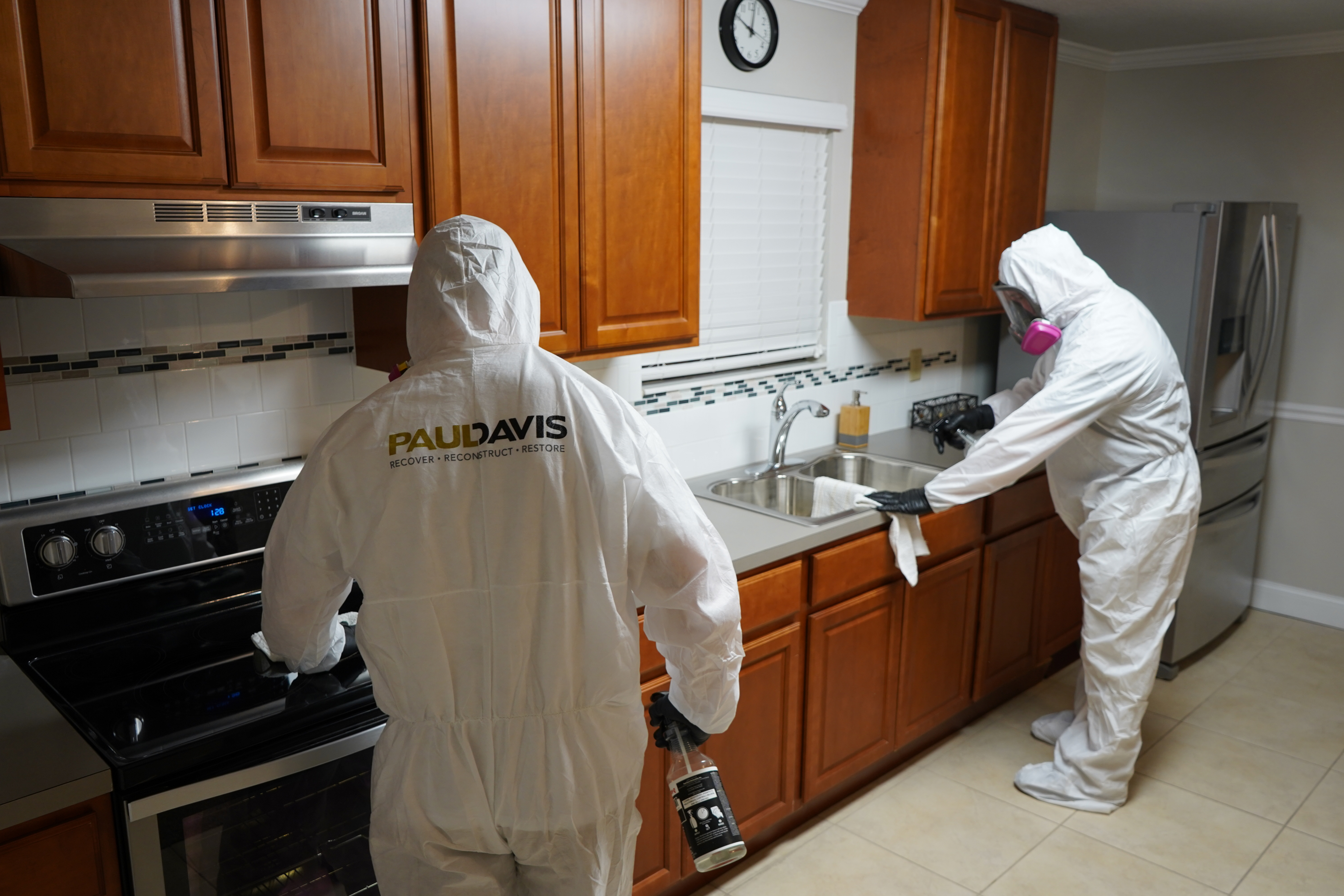 Let's Keep Everyone Safe
Sanitation is one of several services Paul Davis offers, and our experience over the years is a benefit for you. We use the proper materials, techniques and tools to address viruses, bacteria, microbial growth and other pathogens, so you can trust us to deliver tranquility while we clean your property.